Last

on 09/07/99 01:15 PM
Now playing "The Drunken Piper"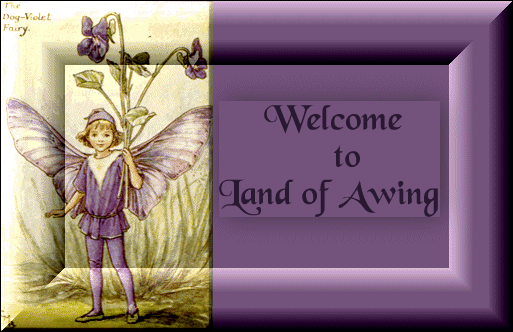 This page is best viewed with black_chancery font.
Upload the file to your
truetype fonts directory.

Welcome to my world. Inside the gates you
will find a myriad of interesting things.
Find out all about me... Explore mystical
sites on the World Wide Web.....
Follow the Faeries as they lead you into
their unknown realm... Stay awhile or stay a bit..
Please sign the guestbook, so that I may know
all who have trod this path....
I bid you adieu, and magickal hunting.
F

Faerie Blessings and Pixie Kisses to you all.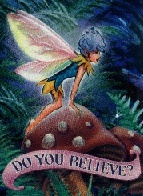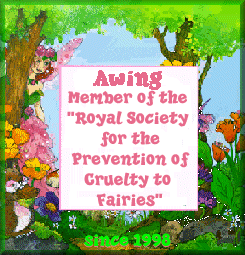 Visit Awing's Spirit Page
WebBrawl voting info here

The Faeries here in the Land of Awing
have outgrown this place.
The winged cousin creatures~~~~~~
the Angels have taken up residence at
a new place of their own...............Awing's Angels
Please visit frequently,
as the angels have just begun to move in.

This candle burns forever,
In remembrance of Littleton, CO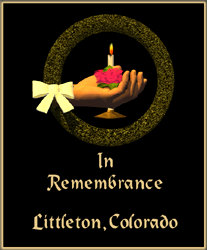 artwork by Sondra J. Seeger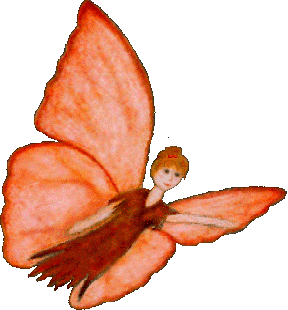 Meet Titania....The Gatekeeper of the Land.
Click on Titania to adopt a Fae just like her.
The Faeries support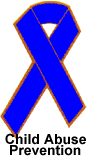 "The children are our future"

FaeFolk have trod this path before you