last updated on 05/31/99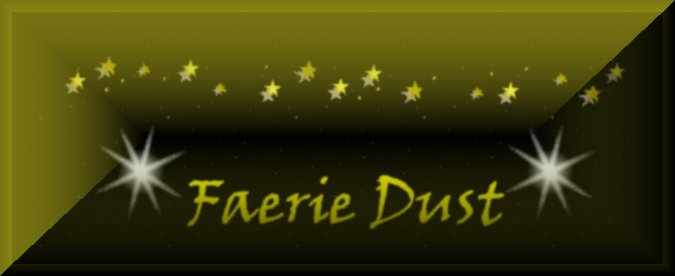 a collection of Faerie poems--

A Faery Song
by William Butler Yeats

We who are old, old and gay,
O so old!
Thousands of years, thousands of years,
If all were told:

Give to these children, new from the world,
Silence and love;
And the long dew-dropping hours of the night,
And the stars above:

Give to these children, new from the world,
Rest far from men.
Is anything better, anything better?
Tell us it then:

Us who are old, old and gay,
O so old!
Thousands of years, thousands of years,
If all were told.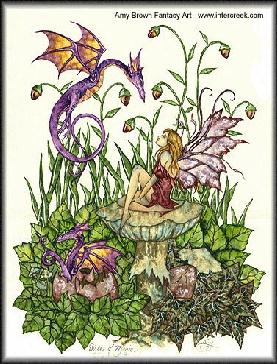 come, ye join the Faerie round,
watch us dance and sing.
Join the Faefolk with joy in yon heart,
Merriment dancing doth bring.
Take a pinch of Faerie dust,
sprinkle in hair and eyes.
The mystery of Pixie dust
Ah, what a glorious surprise
Join hands with the Nymphs,
the Sprites and Gnomes,
Dance all through the night,
Man and Fae,
under the Moon
Oh what a beautiful site.
Dance! Dance! Dance the Round,
Make your steps in time,
Strum on the lyre, and panflute blow,
Lyrics in prose and rhyme.
awing98`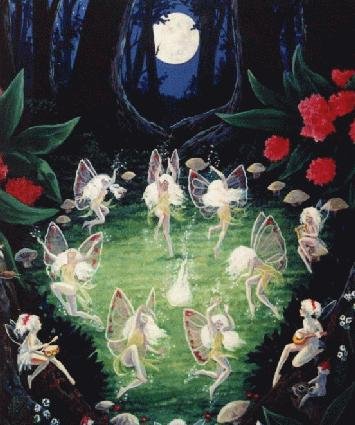 The Fairies Dancing

by
Walter de la Mare

I heard along the early hills,
Ere yet the lark was risen up,
Ere yet the dawn with firelight fills
The night-dew of the bramble-cup,--
I heard the fairies in a ring
Sing as they tripped a lilting round
Soft as the moon on wavering wing.
The startlight shook as if with sound,
As if with echoing, and the stars
Pranked their bright eyes with trembling gleams;
While red with war the gusty Mars
Rained upon earth his ruddy beams.
He shone alone, low down the West,
While I, behind a hawthorn-bush,
Watched on the fairies flaxen-tressed
The fires of the morning flush.
Till, as a mist, their beauty died,
Their singing shrill and fainter grew;
And daylight tremulous and wide
Flooded the moorland through and through;
Till Urdon's copper weathercock
Was reared in golden flame afar,
And dim from moonlit dreams awoke
The towers and groves or Arroar.

Come away, O human child!
To the waters and the wild
With a faery, hand in hand,
For the world's more full of weeping than you understand.
W.B.Yeats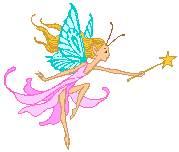 The Fairy Child

by Lord Dunsanay


From the low white walls and the church's steeple,
From our little fields under grass or grain,
I'm gone away to the fairy people
I shall not come to the town again.

You may see a girl with my face and tresses,
You may see one come to my mother's door
Who may speak my words and may wear my dresses.
She will not be I, for I come no more.

I am gone, gone far, with the fairies roaming,
You may ask of me where the herons are
In the open marsh when the snipe are homing,
Or when no moon lights nor a single star.
On stormy nights when the streams are foaming
And a hint may come of my haunts afar,
With the reeds my floor and my roof the gloaming,
But I come no more to Ballynar.

Ask Father Ryan to read no verses
To call me back, for I am this day
From blessings far, and beyond curses.
No heaven shines where we ride away.

At speed unthought of in all your stables,
With the gods of old and the sons of Finn,
With the queens that reigned in the olden fables
And kings that won what a sword can win.
You may hear us streaming above your gables
On nights as still as a planet's spin;
But never stir from your chairs and tables
To call my name. I shall not come in.

For I am gone to the fairy people.
Make the most of that other child
Who prays with you by the village steeple
I am gone away to the woods and wild.

Child of the pure unclouded brow
And dreaming eyes of wonder,
Though time be fleet, and I and thou
Are half a life asunder,
Thy loving smile will surely hail
The love-gift of a fairy-tale.
Lewis Carroll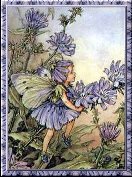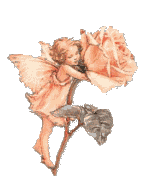 artwork by Cicely M. Barker
The Road to Fairyland

by
Ernest Thompson Seton

Do you seek the road to Fairyland
I'll tell; it's easy, quite.
Wait till a yellow moon gets up
O'er purple seas by night,
And gilds a shining pathway
That is sparkling diamond bright
Then, if no evil power be nigh
To thwart you, out of spite,
And if you know the very words
To cast a spell of might,
You get upon a thistledown,
And, if the breeze is right,
You sail away to Fairyland
Along this track of light.

O then, I see Queenn Mab hath been with you. . .
She is the fairie's midwife; and she comes,
In shape no bigger than an agate-stone
On the forefinger of an alderman,
Drawn with a team of little atomies,
Athwart men's noses as they lie asleep.
William Shakespeare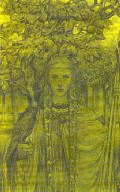 Faefolk have visited